Board-Certified New York City Plastic Surgeon Dr. David Cangello is a world-renowned expert on scarless rhinoplasty. Through years of diligent study and experience, Dr. Cangello's expert surgical skill and visionary aesthetic instincts allow him to create beautiful noses through scarless rhinoplasty that seamlessly blend with each patient's existing facial characteristics, refining facial symmetry and enhancing facial beauty while retaining a completely natural-looking appearance.
For many patients, the closed approach of the scarless rhinoplasty (with minimal skin dissection) requires less operative time than the open approach rhinoplasty, which generally leads to better patient outcomes. In Dr. Cangello's capable hands, patients can rest assured knowing that they'll attain long-term results and a nose that is both beautiful and functional.
Contact Plastic Surgeon Dr. David Cangello today at (646) 665-4222 to schedule a consultation for Scarless Rhinoplasty in NYC.
Closed, Scarless Piezo Ultrasonic Rhinoplasty Results
Dr. Cangello is a leading plastic surgeon in NYC who has developed a reputation for achieving superior, natural-looking rhinoplasty results. He performs each procedure using artistic insight and surgical precision, allowing him to produce rhinoplasty results that perfectly complement the unique and beautiful face of every patient.
What Is Scarless Rhinoplasty?
Scarless rhinoplasty—also known as "closed" rhinoplasty—is a surgical technique indicated for patients who want to change the appearance of their nose without the use of external incisions. Modifications that can be made to the nose through a scarless rhinoplasty approach include: 
Reducing a dorsal hump on the bridge

Deprojecting a nose that it overprojected (comes too far out of the face)

Refining a bulbous or boxy nasal tip

Narrowing a nose

Elevating a droopy nose

Augmenting the bridge of the nose
In some cases, and only in expert hands, even revision rhinoplasty can be performed by Dr. Cangello using the closed approach.  The premiere advantage of scarless rhinoplasty is that it leaves the patient with no visible scars afterward. And, because there is less manipulation of nasal tissues, particularly with Dr. Cangello's approach which often involves minimal or
no
skin dissection off the bridge of the nose or an atraumatic subperichondrial dissection (performed by less than a handful of other surgeons in the United States), there is less postoperative pain and swelling and more predictable healing.1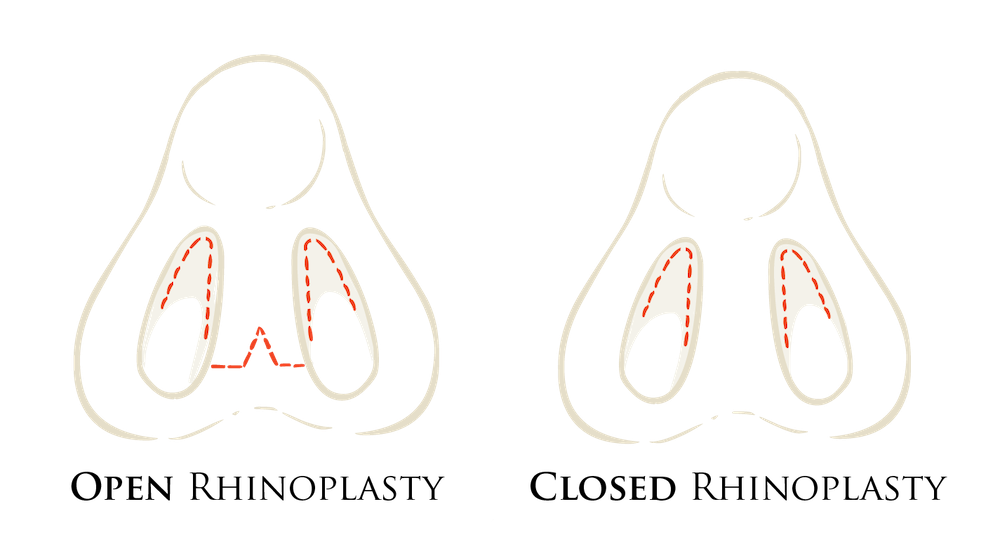 Dr. Cangello's Personal Philosophy on Closed vs. Open Rhinoplasty
One of the largest topics of debate amongst rhinoplasty surgeons is whether nose surgery should be performed using the "closed" or the "open" approach.  Many surgeons who begin their career in rhinoplasty performing closed rhinoplasties feel that the closed approach is the "elite" approach because it doesn't create any external scar and it is technically more challenging for the surgeon to perform. On the other hand, surgeons who perform the "open" approach mainly, or solely, would argue that the scar is essentially inconsequential over time as it basically fades away, and it allows for complete visualization of the structures of the nose and also easier manipulation of those structures. Of the rhinoplasty surgeons in the United States that tout performing the closed approach, a very substantial percentage have abandoned that approach and converted to the open approach for the reasons mentioned above. Very few surgeons go in the opposite direction, from performing the surgery "open" to performing it "closed". Dr. Cangello is one of those few surgeons, and explains his reasoning below. 
First, it should be stated that while the closed approach is extolled because it does not leave any visible scar, creating a nose that does not demonstrate the features of an "ideal nose" in order to prevent having a scar is pointless. More often than not, this is what happens when surgeons use a closed approach. The typical result of the closed rhinoplasty is a nose that on profile view looks a little bit shorter than it should, meaning the tip doesn't project out far enough, or the dorsum just above the tip looks too high. As a result the tip looks rounded and blunted, rather than refined and elegant. It lacks supratip break as well. Supratip break can be seen in the last image of the diagram below where the tip projects a little further than the dorsum. As a result, a slight indentation just above the tip is created. This is a highly desired feminine trait of the nose.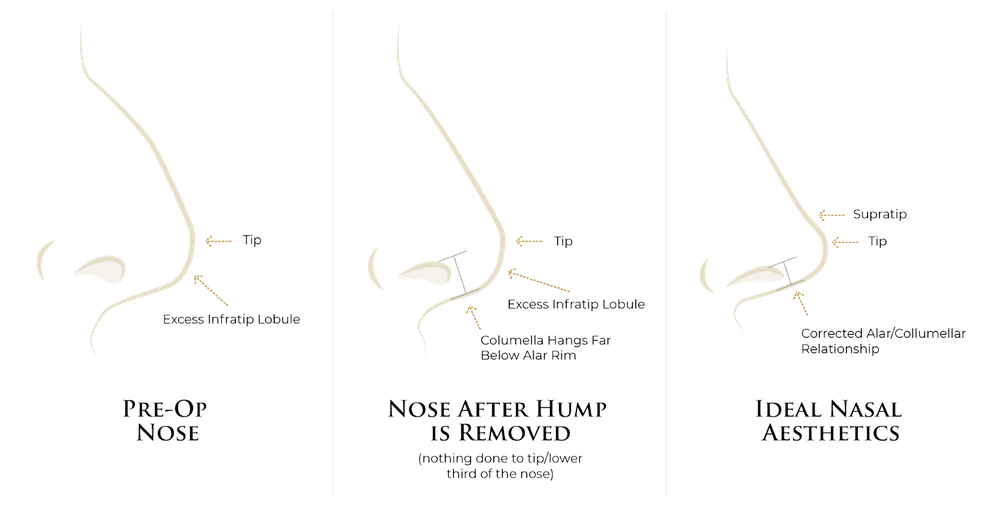 In addition, the columella (skin bridge between the nostrils) tends to appear as though it is hanging too low.  And on the frontal view of the nose,  the area just below the tip of the nose called the infratip lobule often tends to still be prominent and drooping. The most common explanation for this is that surgeons who use the closed approach all too often do not address the lower third (tip, infratip lobule , ala, columella) relationships at all.  They simply remove the hump on the nose and leave the rest of the nose untouched. The reason for this is because it is incredibly technically challenging to address the relationship of these structures (of the lower third of the nose) using a closed approach, so they are neglected all together, making the operation  easier and faster for the surgeon. Even when the open approach is utilized  and complete access to the lower lateral cartilages of the nose (which are responsible for creating the outer appearance of the tip, infratip lobule, ala and columella)  is obtained, it is difficult for many surgeons to master a technique that will deliver ideal tip aesthetics at the end of the procedure. So doing this through a closed approach presents an even greater challenge for the surgeon. 
As mentioned previously, many surgeons have switched from a closed approach to an open approach in order to improve aesthetic outcomes, particularly with the lower third of the nose, but still they fall short. Given that rhinoplasty is Dr. Cangello's passion, he sought to learn from surgeons who are the true masters of rhinoplasty, located throughout Turkey and Europe. They perform rhinoplasty on a different level as compared to most of the surgeons in the United States with aesthetic results that are second to none and they are able to achieve these results through a closed approach. . These masters have passed on their techniques and knowledge to Dr. Cangello, and as such, he is able to create the most aesthetically (and functionally) ideal outcomes through a very minimally invasive, limited incision approach. It takes a very long time to master these techniques, but the results of doing so are: ideal tip and lower third of the nose aesthetics, much shorter recovery period, minimal swelling and usually no to very minimal bruising. 
To summarize: Dr. Cangello always begins with a closed approach. Very infrequently does he find the need to open the nose. Through the closed approach, he is able to modify the dorsum and tip and see the effects of the changes made instantaneously because the skin does not need to be redraped. This is different from the open approach where the skin does have to be redraped and sutured closed in order to see the shape of the nose after the  bone and cartilage have been altered. Further, by using the closed approach certain ligamentous structures which provide support to the tip are maintained. These ligaments all have to be reconstructed when the open approach is used. If this is not done properly, this can lead to fullness in the supratip area (no supratip break) and the appearance of a nasal tip that is not sufficiently projected. 
Additionally, the methods Dr. Cangello  uses in his approach to rhinoplasty are minimally traumatic. In many cases, particularly with respect to Preservation Rhinoplasty, NO skin needs to be dissected off the dorsum of  the nose (this is the complete opposite of what must happen in "open" rhinoplasty cases). Limited incisions and dissection of the nose result in minimal swelling and usually NO bruising, which leads to much quicker recovery. Patients often tell Dr. Cangello that they are shocked that they didn't bruise at all and barely had any swelling in their post-operative period. 
As for patients wondering which approach is best for them: Dr. Cangello always tells patients that the scar that results from using the open approach is essentially inconsequential. If the surgeon is meticulous about creating the incision and closing it, it should heal very inconspicuously.  So you should not be deterred if your surgeon tells you he is using an open approach. If, however, a surgeon plans to use a closed approach, you should be certain that ALL of the aesthetic issues of the nose (particularly of the lower third) will be addressed, because all too often they are not.  In addition, you should look at before and after photos to see if they are addressed adequately. The absence of an external scar on the nose is great in theory, but it certainly doesn't make a difference if the overall shape of the nose is sacrificed simply so that one can avoid  having a scar. Dr. Cangello is extremely unique in his ability to be able to utilize the closed rhinoplasty approach in most of his patients while also providing the most beautiful and natural results.
Candidates for Scarless Rhinoplasty
Ideal candidates for scarless rhinoplasty are women and men who are generally healthy but unsatisfied with their nasal appearance and want to:
Correct a projecting hump on the nasal bridge

Refine the nasal tip

Modify the length of the nose

Improve nasal symmetry and facial balance

Attain a natural-looking nose that blends with existing facial features

Improve breathing (if anatomical irregularities are contributing factors to breathing complications) 

Revision Rhinoplasty

Augmentation of Nasal Dorsum (common in African American and Asian noses)
Additionally, it's important that candidates for scarless rhinoplasty manage expectations for their procedure results—while Dr. Cangello employs expert surgical skill, he must work within the framework of each patient's existing nasal and facial features.
Scarless Rhinoplasty Procedure
Dr. Cangello will create a custom treatment plan for each patient's procedure and determine the steps necessary for their unique "closed" surgery.2 When performing a closed rhinoplasty, also termed an endonasal rhinoplasty, Dr. Cangello will make parallel incisions that encircle nearly half of the nostril lining . He will modify the structure of the nose, tailored to the patient's goals. Through these limited incisions, Dr. Cangello can reduce or augment the height of the nasal dorsum and can straighten the profile of the dorsum as well. Typically, Dr. Cangello does this with a Preservation Rhinoplasty approach which involves lowering the existing nasal bridge (by removing cartilage and bone underneath), as opposed to trimming the bridge from the top down to reduce the height. Minimal dissection of the skin of the nose off the bridge is needed with Dr. Cangello's approach. Further, he cuts the bones and cartilage in a very unique and precise fashion not used by most surgeons. The result of this minimally invasive approach is a beautifully refined nose with much less swelling and minimal, if any, bruising – ultimately leading to much quicker than average recuperation.
Recovery After Scarless Rhinoplasty
Surgical tape and a splint will be placed to support the nose and set it in its new position. One week after surgery, Dr. Cangello removes the surgical tape and splint. The downtime associated with scarless rhinoplasty, combined with Dr. Cangello's approach of limited or no skin dissection and subperichondrial dissection – different than the traditional approach which is SUPRA (above) perichondrial when it is necessary,  is more mild than with an open rhinoplasty procedure; because there is less bruising and swelling most patients are able to go back to work in one week, and can resume normal activities in four weeks. Most patients have no bruising whatsoever at the time they have their splint removed at one week. It will be approximately one year before the nose has completely healed and final results are seen.
Following a scarless rhinoplasty, it's critical that patients avoid non-contact sports (jogging, biking, hiking, rowing) for at least three to four weeks and avoid all contact sports (surfing, skating, skiing, baseball, basketball, tennis) for at least six weeks. We suggest three to seven days downtime for all scarless rhinoplasty patients to ensure an optimal recovery and excellent result.
Scarless Rhinoplasty Risks
All surgeries have some inherent risk, but for healthy patients, Scarless Rhinoplasty complications are rare and have minimal risks associated.3 Some mild swelling and discomfort due to congestion following scarless rhinoplasty is normal, and will gradually subside each day in the week following the procedure. Patients do not experience this as a painful procedure and rarely, if ever, have the need to take narcotic pain medication.
Scarless Rhinoplasty in NYC with Dr. Cangello
The most important step you can take to ensure a successful outcome is to choose a Board-Certified Plastic Surgeon with extensive experience in scarless rhinoplasty to perform your procedure. Patients from all over the world have lauded Dr. Cangello for his beautiful and natural-looking results. This is why he's recognized as New York City's premier scarless rhinoplasty expert with extensive features in countless publications and television shows, including Harper's Bazaar, Refinery 29, Seventeen Magazine, CBS and Fox News among others. Contact us today to schedule your consultation.