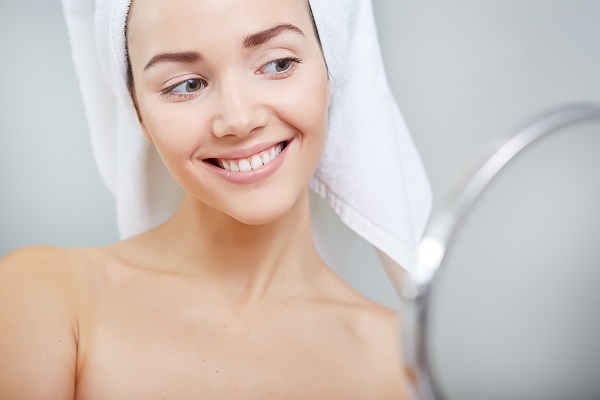 While in-office treatments can help you achieve radiant skin, the right at-home skincare routine will make sure your results last. Products from the drugstore often aren't enough to maintain the skin's health, which is why many men and women rely on professional skincare products. Professional skincare products are specially formulated for specific skin concerns and are backed by rigorous research and testing.
We are excited to announce that we now carry products from the Skinbetter Science® skincare line. Below we're sharing how these award-winning products can jumpstart your skincare routine and help you attain a healthy complexion.
Oxygen Infusion Wash
The foundation of any skincare routine should start with a great cleanser. The Oxygen Infusion Wash is a versatile product that can be used for normal to oily skin. This cleanser combines slow-releasing alpha hydroxy acids with an infusion of oxygen to fully refresh the skin. In addition to removing makeup, oil, and daily grime, this formulation encourages skin cell turnover to shed dead cells and reveal new skin. The infusion of oxygen helps the skin maintain a bright, refreshed appearance.
This product can easily be incorporated into any skincare routine, and it can be used in both the morning and evening.
Even Tone Correcting Serum™
For those wanting to brighten up patches of discoloration, the Even Tone Correcting Serum is an excellent option. This lightweight serum is unique in that it does not contain hydroquinone or retinol, which can be harsh on sensitive skin. Instead, its special formulation gently breaks up pigmentation to reveal a smooth, clear complexion.
This product is great for reducing the appearance of sun damage, hyperpigmentation, age-related brown patches, and other discoloration. It can also reduce the yellowing that sometimes appears with hyperpigmentation in certain skin types.
For best results, this serum should be applied in the morning and evening.
AlphaRet® Overnight Cream
This award-winning cream is a top choice for rejuvenating dull or tired-looking skin. It contains alpha hydroxy acid and a retinoid to reduce the appearance of fine lines and wrinkles. This powerful combination gradually reveals smoother skin texture with little-to-no irritation. In addition to encouraging skin cell turnover, the cream simultaneously replenishes moisture to counteract dryness typically associated with use of AHA and retinol products.
With nightly use, you can expect to see a reduction of fine lines and skin texture irregularities in just four weeks.
InterFuse® Treatment Cream
Collagen is responsible for the supple, resilient quality of skin during our younger years. With age, the production of collagen declines. The InterFuse Treatment Cream contains important peptides that encourage collagen production. As collagen production is increased, skin regains its ability to "bounce back."
With regular use in the morning and evening, you can expect to see skin that looks lifted, firm, and more resilient. Fine lines and wrinkles often become smoother and less apparent as well.
Detoxifying Scrub Mask
Most skin types can benefit from regular physical exfoliation, which removes dead skin cells and reduces the likelihood of acne breakouts. But it's important to choose a scrub that is gentle and does not compromise the skin's moisture barrier.
Skinbetter Science's Detoxifying Scrub Mask uses a clay-based formula to resurface the skin and reveal a glowing complexion. The biodegradable scrubbing beads gently exfoliate the skin, while the clay minerals absorb excess oil and grime.
This product can be used up to three times per week. The effects can also be intensified by leaving the mask on for a longer amount of time.
To receive personalized recommendations for Skinbetter Science products, schedule a consultation with our office today. We'd be happy to create a custom skincare routine for your specific skin type.