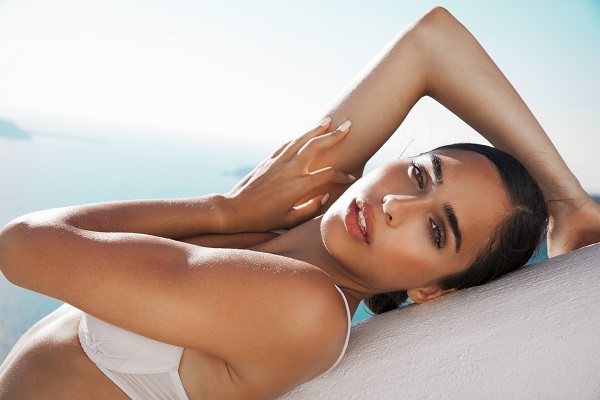 When summer winds down, many people reach for serums and topical products to undo the damage of long summer days spent under the sun. But for most people, these products don't meet their needs in terms of optimal skin repair and rejuvenation.
For those seeking a powerful but minimally invasive solution with little downtime, Dr. Cangello offers a High Gloss Microlaser Peel: a combination treatment that restores the skin's natural glow. This highly sought treatment is an ideal option for pampering sun-damaged skin and transitioning to fall with a fully refreshed look.
What is High Gloss? PRP Meets Fractional CO2 Laser Treatment
Dr. Cangello's signature High Gloss Microlaser Peel is an innovative treatment that combines the restorative power of PRP therapy with the resurfacing effects of a micro laser peel. This non-surgical treatment is designed to freshen up your skin and combat damage after spending time in the sun.
It is a great option for treating the following skin complaints:
Dilated pores
Irregular skin texture
Dull or aged looking skin
Step One: Fractional CO2 Laser "Micro Peel"
Traditional laser resurfacing can produce significant rejuvenation, but due to its more aggressive nature, it involves more downtime. Dr. Cangello performs a micro peel using a CO2 fractional laser. This advanced technology beautifully resurfaces the skin without requiring a lengthy recovery period.
Rather than ablating the entire treatment area, the fractional method delivers laser energy that has been separated into smaller ("fractionated") beams. This produces tiny columns of controlled injury on the skin's surface. As the body's healing response is triggered, damaged skin in the treated area is eventually replaced with vibrant, healthy skin. The surrounding untreated skin aids in healing and results in a much more comfortable and speedy recovery period.
Patients typically have a mild sunburn sensation after this treatment. Post-treatment symptoms also include redness and puffiness, but these temporary symptoms usually resolve in 1-3 days.
Step Two: PRP Therapy
PRP (platelet rich plasma) therapy makes up the second and "High Gloss" part of Dr. Cangello's treatment. Blood platelets contain reparative "growth factors," which are proteins that the body produces to aid with healing. This treatment jumpstarts the body's healing process, which encourages ongoing rejuvenation and can enhance the overall effects of a laser treatment. When placed on the skin it appears shiny or "glossy".
PRP therapy begins with a simple blood draw, and then the blood is spun in a centrifuge. Spinning the blood in a centrifuge allows Dr. Cangello to separate the different blood components by weight. This leaves a concentrated solution of platelets in plasma, hence the name "platelet rich plasma."
The platelet rich plasma is then extracted and applied topically to the face over the laser treated area. Fractional laser treatment leaves thousands of tiny wounds on the face, which essentially serve as microscopic channels for the PRP to penetrate deeply into the skin. Once in the skin, the platelet rich plasma encourages the production of new skin cells and healthy collagen.
Over the weeks and months that follow, patients can expect to see a healthier, glowing complexion and improved skin texture.
To learn more about the High Gloss Microlaser Peel and similar treatments, schedule a consultation with board-certified plastic surgeon, Dr. David Cangello. Dr. Cangello offers a full range of surgical and non-surgical cosmetic procedures. Contact him today to schedule your personal consultation.